One of my most distinct LDS General Conference memories over the past 40 years surrounds Pres. Faust being called as a General Authority of the Church of Jesus Christ of Latter-day Saints. After having been sustained as an Assistant to the Quorum of the Twelve earlier in the conference, he got up to speak briefly. He opened his first-ever talk in General Conference by saying, "For 22 years, until last Thursday morning, I have been a lawyer. And since then I have been trying to repent." Laughter rumbled through the Tabernacle.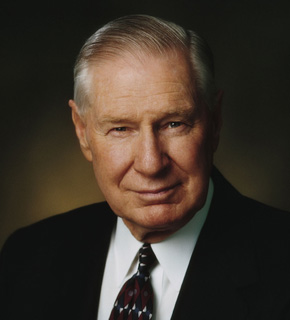 That was in October 1972,  just five years after I had joined the Church and while I was in the Language Training Mission, learning Spanish for my two years down in Central America. For the last 35 years, I have always enjoyed, listened carefully to, and learned from Pres. Faust's remarks in General Conference and elsewhere. As a former Democratic state legislator and a former member of Pres. Kennedy's Lawyers Committee for Civil Rights under Law, he has served as a role model for those of us in the Church who believe that there are — or at least were — core principles within the Democratic Party worth defending and promoting.
I will miss his warm voice and unmistakable cadence, which I have listened to for nearly two-thirds of my entire life. My prayers are with his family and friends.  ..bruce..