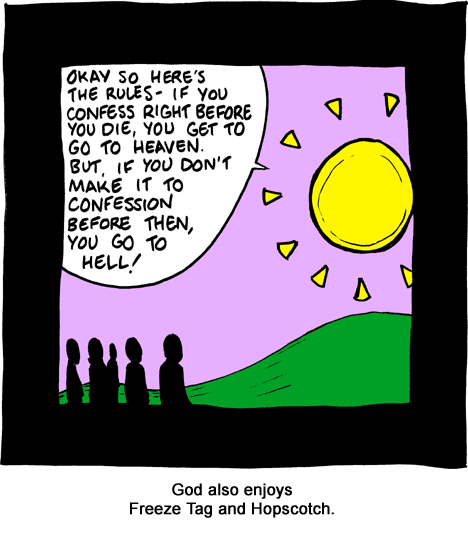 Doug Gibson, the opinion editor at the [Ogden, UT] Standard Examiner, regularly touches on religious issues, usually dealing with the LDS Church. His latest post examines the concept of hell as found in much of mainstream Christianity; as usual, he pulls no punches:
The absoluteness of this doctrine is evil. If one does not accept Christ in the same manner of someone else, that individual is consigned to an eternal punishment in hell. Taken to its absurd conclusions, the vengeful God that hell-believers worship would consign to eternal torture an infinite amount of devout Mormons, Jews, Muslims, Seventh Day Adventists, Buddhists, and so on, who reject the entreaties of those who see only a narrow passage to heaven and a vengeful God punishing those who don't "dot their i's or cross their t's."
Doug has more to say, offering links to four films that actually depict the "sinners in the hands of an angry God" theology. Go read the whole thing.
As I wrote six years ago, back in the early days of this blog, Mormons actually believe in three types of hell, all successive, with almost everyone who somehow ends up there getting out after the first or second (and ending up in a kingdom of glory). The LDS doctrine of hell is both just and merciful, and it gets back to a point I made in another post over at Mormon Mentality:
[God's] grace is not only greater than we imagine, it is greater than we can imagine. And however long or short our lives, God always has enough time to love us home.
The message of LDS doctrine is that it takes a very deliberate, determined effort to fend off God's grace eternally; our salvation (after Christ's atonement) results from informed choices we make, not upon chance, situation, or God's arbitrary decisions. ..bruce..