[UPDATED 3/12/08: Check out this corresponding post over at The Posts of My House: The Sisterhood of the Slacks. I must confess some real sympathy for the sisters who would rather wear dress slacks than skirts.]
We had stake conference the Sunday before last. I attended all sessions (except the youth session), including both of the Sunday main sessions, largely because I was in the Stake choir. And I was amused to find that my eyes were drawn to every other bearded male I saw during all those sessions — and I saw a few them eyeballing me as well. No, we're all straight (well, at least I can vouch for myself) — but bearded Mormons tend to check each other out, not out of competition but out of a sense of "well, at least I'm not the only guy with a beard here."
OK, there's some mental competition as well ("Y'know, if he would just trim up his beard right there, it would look so much better…"), but it's minor and secondary.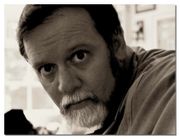 I've had a beard most of my adult life. I started growing my first beard during my very last week at BYU (1978) — not so much as an act of defiance than as an act of convenience, since I spent that last week sleeping in my office in the Talmage Building while trying to finish my CS 480 final project (a multi-tasking kernel running on a Nova minicomputer). I alternated between bearded and clean-shaven for several years (including a mustache for a while), was clean-shaven during my two years of teaching at BYU (1985-87) and remained clean-shaven until we had a "Days of '47" beard-growing contest in our ward in Santa Cruz (no, seriously) in 1988. The bishopric was reorganized during that contest, and the two of us who were called as counselors both had grown beards, which really gave the ward that pioneer feeling. I kept mine after the contest, and have had it pretty much ever since.
Every few years since then I shave it off, usually out of boredom or curiosity, or from a desire to somehow motivate myself. What I usually get is people (including — nay, especially — members of the Church) finding polite or roundabout ways of telling me how much better I looked with the beard. When I shaved it off a few years back while we were living in DC, my dog Deacon barked at me when I walked out of the bathroom, not recognizing me. The same thing pretty much happened at church (though the members, for the most part, refrained from barking at me). The real clincher, though, was when the Washington DC North Mission President told me that I "just didn't look the same" without the beard. When a mission president hints that you looked better with the beard — and this while I was serving as the branch mission leader, within his mission — then the beard isn't going to stay away for long.
Besides, my sweet wife Sandra really loves the beard (she says I kiss better when I have one; I know, TMI, but there you go). She's always very sweet and supportive and stiff-upper-lippish when I shave it off, but is always so relieved when I grow it back. As am I.
I have this recurring fantasy that at some point the Church leadership will look back at all the bearded and mustachioed General Authorities (including every President from Brigham Young through Heber J. Grant) who served faithfully up through the middle of the 20th Century and decide that maybe facial hair isn't all that bad. But I suspect that won't happen until we get far enough into the Last Days that the general destruction and upheaval disrupts the razors-and-shaving-cream supply chain. At that point, we'll all have more important things to worry about.
Which I guess is the point. ..bruce..